News
Are you interested in being a caller?
This June, prior to the Maple Leafs Regroup Convention, you're invited spend three days with Caller Coach Anne Uebelacker and Teaching Assistant Brian Jarvis in a concentrated effort to expand your knowledge of square dance calling. Beginning callers will benefit from this intensive exposure to some of the best callers in the business today! June 28-30 at the Fairmont Royal York Hotel.
http://gaycallers.org/gca-caller-school-2016/basic-info
2016 February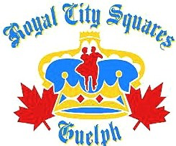 Looking forward to dancing with everyone now that we are finally back as of January 11, 2016. It seems like a long time. Welcome everyone. We are continuing our Beginners classes and are happy to see several back for Beginners 2, which we run through Continuing Education - Leisure Courses. We are also excited to see all the Mainstream dancers return to learn the balance of the mainstream calls with Dave Williamson. It will not be long before we dance the night away at Freshman Frolic with all our New dancers. For those dancers that want to get extra floor time, take a drive down to Etobicoke and join the Arrowhead Squares on a Friday Night for Beginners or come to Guelph on a Tuesday night. All are welcome. Pictures are of our Beginners class. Don't forget to Mark on your Calendar for our Singing Call Nights with Jeff Priest.
Wed, Feb 24, Movies and Musicals
Wed, Mar 30, Beatles
Wed, Apr 27, Disney
Wed, May 11, Year End Party
2016 January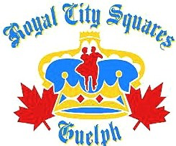 Happy New Year
On November 23, we retrieved Royal Bunny back from Elora. Caller, Jeff Priest made the Royal City Squares do a Mirror dance . The square performed really well as part of the square consisted of beginner dancers. This was very difficult even for seasoned dancers.
We did very well with our Tuesday and Wednesday night Toy Drive for the Salvation Army. Along with the toys, we also collected over $200 in cash. Thanks to all the dancers that donated.
December 2nd, our toy dance night. Jeff called to LIVE MUSIC for the first time in his 50 year career! Thanks to all that joined us, to cheer Jeff on and enjoyed the wonderful music of Relative Harmony-Jon Avery on fiddle and Rick Avery on piano.
Fun was had by all at our Christmas Parties held on Tuesday night for beginners and on Wednesday singing call night.
Many enjoyed attending Christmas Quackers. Some of the men wanted to try rounds, but none of the women would help them out so - see pictures. I suggested they find a good partner and take lessons from Andrea.
Submitted by Yvonne Patterson - Royal City Squares
PS -
pictures are at our Flickr site
2015 November

Lift Lock Squares Celerate 60 Years
The 60th Anniversary of the Lift Lock Square Dance Club in Peterborough was held on Sunday, Nov. 1, 2015 at Westdale United Church in Peterborough. This was a very successful event with over 117 people attending.
There were approximately 57 current dancers from the club and at least 60 former members who enjoyed the celebrations that afternoon. Many of the former members had been Presidents or held Executive positions in the past.
Four former callers were also in attendance: Wayne & Brenda Whatman, Dave Hutchinson, John & Verna Park, and Joe Uebelacker who is the current caller for the club. Howard & Jean Lander presented Certificates of Congratulations from the Toronto & District Square & Round Dance Association and the Ontario Federation of Square & Round Dancers. Certificates were also received from the Canadian Square & Round Dance Society and from the City of Peterborough.
After refreshments of cake and ice-cream, the former members enjoyed visiting with each other and watching the dancers enjoy Plus dancing with all the callers participating.
Special thanks to Gillian & Bill Miller and Don Peirce for their help in contacting former members. Thanks also to Valerie Reid, Anne Hare, Linda Levitt, Caroline Charman & Rick McKey and the Executive for organizing this event.
Thanks
Bill Harris
Vice President
Lift Lock Square Dance Club
liftlocksquares@gmail.com

Lift Lock Squares "Plus Blast" Workshop
Head ladies centre, tea cup chain, load the boat and track 2 – just a few of the thirty "Plus" calls reviewed and/or expanded at our fall "Plus Blast" workshop.
Lift Lock Square Dance Club was the organizer, October 24th, 2015 was the date, St Anne's Parish Hall was the location, morning and afternoon sessions were the times.
Under the expert guidance of our Club caller, Joe Uebelacker, with his multiple years of square dance calling experience, the forty-five plus level attendee dancers were treated to a learning experience of the full Callerlab "Plus" curriculum through 5 hours of experiential dancing by definition.
Dancers from Kanata, Mississauga, Newmarket, Oshawa and Markham attended the workshop in addition to our own Lift Lock plus level dancers. Well worth the trip. Attendance at the workshop was insightful, practical, informative and filled with humour, fun and lotsa dancing.
A pat on the back and thank you to Caroline Charman and Rick McKey for the masterful job done in organizing this workshop. In addition, a special thank you to the eleven Lift Lock A2 or higher Club dancers who donated their time to assist and guide the plus dancers through the numerous calls. And finally, to our Club caller, Joe Uebelacker, who, through his leadership, so helped in making this workshop such a success.
The day was a great success and everyone had fun and came away with a greater knowledge of the Plus level calls.
Thanks
Bill Harris
Vice President
Lift Lock Square Dance Club
liftlocksquares@gmail.com
Royal City Squares – Guelph
Wishing everyone a Merry Christmas. Enjoy family and friends Safe holiday.
Tuesday nights of Basic/Mainstream are going well. See our happy dancers in the picture. Dave Williamson makes learning so much fun. Members from other clubs are always welcome to join our classes for extra floor time.
Wednesday's Plus teach is moving right along with Jeff Priest's excellent teaching and calling. Come and join us any Wednesday evening from 7:30 – 8:15 for a teach; 8:15 – 10:00 Alternating Full Plus/Plus teach
Don't forget Singing Call Night on December 9th with of course a Christmas theme. Hope to see everyone there. Here are pics from October's Halloween night.
Linda Genereaux and I went to visit the Country Squares in Rostock for their Halloween dance. Thanks to caller Neva McVittie and all the members for making us feel so welcome . We had a lot of fun.
Glenda and Glen, 2 of our new dancers and I went to dance with the Arrowhead Squares. Caller Aaron Goodman, as usual made his Basic teach fun. This class is on Friday nights in Etobicoke. It was a real treat to see 3 young school age dancers learning to modern square dance with their parents. We need to encourage more of this. Modern Square dancing can be a wonderful family event.
Submitted by Yvonne Patterson - Royal City Squares
2015 October
Update from Al and Renia Calhoun
Al & Renia would love to "THANK" all the dancers that gave of their time to assist us in the following "Demonstrations" in Seniors homes and Fairs.
Barrie Squaretimers
Midland Square Dancers
Haliburton Highland Twirlers
Blue Mountain Promenaders
During this past summer we danced in 10 Senior's Homes in Barrie, Midland & Haliburton, also in the Oro Worlds Fair,
We have received so many thank you cards from the homes and some seniors, just to thank the dancers as they are so appreciated by the shut inn's. It also brings back so many memories of when these SENIORS WERE DANCERS ALSO. THANK YOU ALL, AND "YELLO ROCKS" ALL AROUND
AL & RENIA
2015 June
Royal City Squares - Guelph
Wednesday March 25, Beatles Night Singing Call Night,
Acey Ducey and Royal Bunny left to visit Elora Grand Square as well as our Banner was taken by the Black Hats(Cambridge).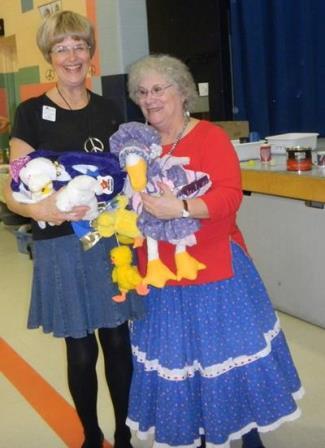 As you can see by the pictures, Elora and Cambridge combined their efforts to win over our banner and mascots by the girls did a much better job.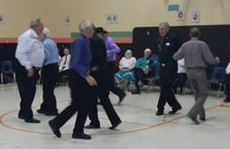 Freshman Frolic was a great success this year. Thank you to all clubs that came, Waterdown bringing the most dancers, as you can see pictured. Several of the dancers took advantage of our large clothing sale and went home with new outfits. Many thanks to those that donated clothing to our club.
In April we retrieved Acey Ducey and Royal Bunny from Elora, as well as our Banner from the Black Hats in Cambridge. Fun was had by all at both dances.
April 21st was one of our busier evenings, as Elora came to retrieve their banner and on the same night we had graduation. Seven Basic and Twelve Mainstream dancers graduated. This program is run through Continuing Education and has so far been successful.
April 28 we held our Spring Open House and had a bumper crowd, with a whole square of university students. Hope to see many of them back in the fall.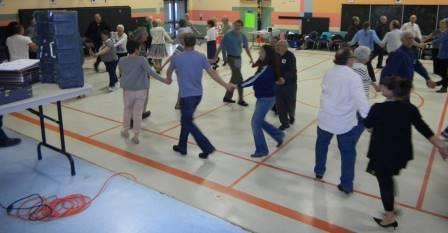 April 29 was Disney Singing Call Night and last dance of the season. It was also the last night that Rounds will be included for now. We will all miss Andrea and her cuing but look forward to her visits.bThanks Andrea for all the years you have devoted to the Royal City Squares.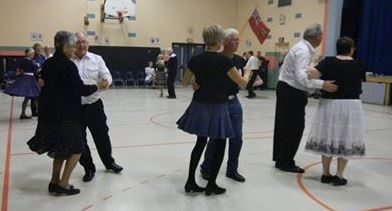 May 1 was our last night of dancing Basic and Mainstream with Dave Williamson, however, all summer long Jeff Priest will be running a review class of Basic and Mainstream in Cambridge and it starts at 7:00 All are welcome. See our attached flyer
2015 Graduates Summer Dancing
Have a great summer
Submitted by Yvonne Patterson - Royal City Squares
2015 April
Raising Money to send kids with Cancer to Camp
On 14 April 2015 Clarkson Secondary School in Mississauga held different ways to raise money for a 'Cancer' Camp for Kids with Cancer. Everything had to be donated. The school asked Al & Renia to call a Square Dance and the kids would pay $5.00 each to attend (instead of going to school classes). Al & Renia agreed and asked Aaron Goodman to supply some dancers.

At 12:00 on Tuesday, Bill & Joan McKendry, Dan & Sarah Zeitlo, Cecil & Dianne Ray and Irwin & Anita Kelly were the demo team for 20 squares of teen dancers, WOW, what a time was had. The school raised $1,900.00 from the square dance. Al & Renia would like to convey their thanks to the members of the demo team who gave of their time and money to get to the school and home again. It only proves that our dancers are the most wonderful people in the world. Also a hearty 'thank you' from the teens.

Submitted by Al & Renia Calhoun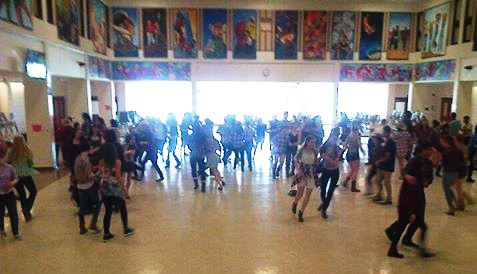 2015 March
Royal City Squares- Guelph
April 1
Royal City Squares had fun hosting the T & D dance at the first of the month. Thanks to all that came to make this a fun day of Square Dancing and Rounds. Pictured here is a rare sight-Jeff and Andrea enjoying the rounds.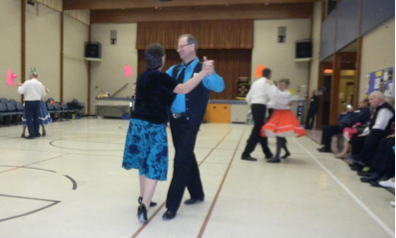 Our Ragtime dance was fun, and as usual Jeff did a great job with fun bits of information for that era. Thanks Jeff and Andrea for all your time and efforts.

On Monday March 16th, our dancers where invited to join the Elora Grand Squares, to dance at the New Life Church in Guelph as it was March break and the schools were closed. Surprise, Surprise - The new dancers put on quite a performance in order to "Steal" the Banner. Good Job New Dancers.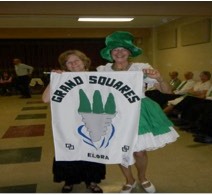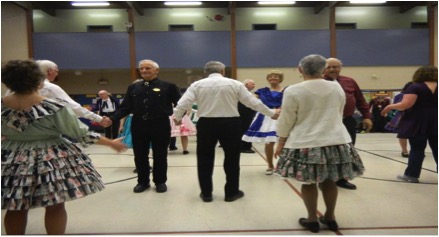 REMINDERS:
Open House Free for New Dancers: April 28th. Bring your friends to try out a great new activity. Lots of snacks

Join us for our last Singing call night April 29th. Come and listen to Jeff call to his favourite Theme "DISNEY' Don't forget Andrea who will be cuing Rounds.

Submited by: Yvonne Paterson


Royal City Squares- Guelph
March 1
Another busy month.
January Beach Night was a blast with Elora coming to steal both Acey Ducey and Royal Bunny. Here they are pictured with Jeff, basking in the sun, just before leaving us.


Our new dancers had a great time when they went on the Wednesday to Waterdown to retrieve back our banner. Thanks to our presidents Rick and Judy for organizing this.

For our Valentines dance on Tuesday we were blessed with live music. Rick Avery and son Jonathan played for us. Also Judy called a contra dance, which was fun for all to try.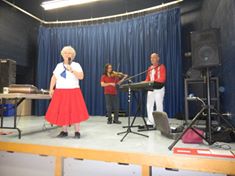 As Elora was dancing at the church in Guelph on Family Day, this was an opportune time to retrieve Acey Ducey and Royal Bunny back from Elora. We had just over 2 squares come for this event. Thanks to all that came.

Up Coming Royal City Squares will be hosting T & D Dance on March 7, 2015 at Trinity United Church. See flyer in the calendar.
March 28, 2015 **FRESHMAN FROLIC has a new venue this year starting at 7:00 pm. We will be at Paisely Rd Public School, which is our usual place to dance see flyer in the calendar.. Don't forget the Clothing Sale. Lots of men's shirts and some lovely skirts and crinolines
March 25, 2015- Singing Call Night – The Beatles
Submited by: Yvonne Paterson
2015 February
Royal City Squares- Guelph
On our second Tuesday back to dancing, the Waterdown dancers came to steal our banner. A fun evening was had by all. (See Pictures). Thanks for your great calling Dave.

It is already February and in another month we will be holidng our Freshman Frolc for all New Basic dancers. Please note that this year we will be holding it at Paisley Road School, where we dance weekly.

Dont forget our singing call nights
February 25 RAGTIME
March 25 BEATLES
April 29 DISNEY
Rounds at 7:30 cued by Andrea Preiest and Plus dancing with caller Jeff Priest

Submited by: Yvonne Paterson
2015 January
Royal City Squares- Guelph



Happy New Year

In December we retrieved our Acey Ducey Duck – surprise no babies this time. Thanks to all that helped especially our new dancers.

Our Toy Dances on both Tuesday and Wednesday were a great success as you can see.

Our formals dance was lots of fun with Jeff Priest calling squares and Andrea Cuing the Rounds. Thanks to all the participated. Next singing call is January 28 BEACH NIGHT. Hope to see you all there.

Mark these on your calendar for the balance of the year.
February 25 RAGTIME
March 25 BEATLES
April 29 DISNEY

Rounds at 7:30 cued by Andrea Priest and Plus dancing with caller Jeff Priest.



Submited by: Yvonne Paterson

2014 November

Royal City Squares- Guelph

Get out your formals of present/past era, and join us in our Christmas Formal Special. Wednesday December 10th, 406 Paisely Rd., Guelph, Ontario. Rounds at 7:30 cued by Andrea Priest and Plus dancing with caller Jeff Priest.

Our last Singing Call Night was a blast with our Halloween theme. Pictured here are Tuesday and Wednesday night dancers dressed up for Halloween. Also, Elora Squares came to steal our Banner but stole Acey Ducey instead.


DON'T FORGET - Put these Singing Call nights on your next year's schedule.
January 28 BEACH NIGHT
February 25 RAGTIME
March 25 BEATLES
April 29 DISNEY

Our presidents, Rick Avery and Judy Greenhill, recently went to Virginia on holiday. While they were there, they looked up the "Just for Fun" square dancers in Edinburg, Virginia. They are a small group that dance plus on Thursday evenings, in the caller's workshop/garage!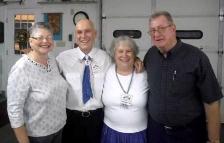 Here they are with the caller, Nelson Wakeman, and his wife Jama.

Royal City Squares wishes everyone a Merry Christmas and Healthy New Year full of dancing.

Submited by: Yvonne Paterson

A thank you from Doug and Heather Holmes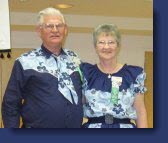 Thank-you callers, cuers and dancers

On October 25th, Heather and Doug Holmes hosted a dance to celebrate their 50th wedding anniversary.

Mr. Jim Lee was the MC for the evening program which included guest callers Rick Gerris – Lindsay, Grant Logan – Thornhill and Bryan Henry – Guelph. Round dance cuers were Bob Beck – Thorold and Kim Hamilton – Oxford Mills. About 125 dancers were in attendance for the evening.

Doug and Heather were supported by several members of the Happy Hoppers club of Newmarket. They were there to make certain refreshments were available for the evening dance, and most were also in attendance during the afternoon community "Open House". We extend our sincere thanks and appreciation to those club members who are always on deck to offer their assistance, including many other occasions during the year.

We welcomed dancers from many of the NSDCA ( campers ) dance clubs, as well as a large number from our local T & D clubs. In addition, we received dancers from North Bay, Orillia, Collingwood, Owen Sound, Minesing, Lindsay, Peterborough, Oshawa, Belleville, Kingston, Mallorytown, Oxford Mills and Chateauguay, Quebec.

Family members and other special guests ( non-dancers ) who were on hand for the events of the afternoon, remained for quite a while during the evening, just to see the fun involved with square dancing.

A big thank-you to all the dancers who came to offer us their best wishes and to spend an evening dancing with us, and a special thank-you to Jim Lee for organizing and leading a most enjoyable evening of music and dance.

Doug and Heather Holmes


2014 October

An update from Al and Renia Calhoun

We had a dance on the 18th of Oct 2014, at "Fairheaven Camp" on 48 Highway with 250 people (Families) They are a religious group and we have been with them for the past 10 years(one time each year).
They range in age from 4 weeks old to 80some. The Moms & the Dads take the young ones on their shoulders and still do the dancing.
We did one tip with two in wheel chairs, one on crutches and four with canes, It was slow but wonderful.
The most we had on the floor at one time was 12 squares. The younger ones are really fast at the learning and they do help us older ones.
Renia and I do around 6 of these Camps each month during the summer. And we do 4 at "OELC" with up to 300 teen's at a time.



Renia and I are "Blessed: as we have the most wonderful life of anyone, working with these teens and then with their Families.
Square/Round dancing is the most wonderful life ever. We have also been going to 4 or 5 Seniors homes for demo's this summer and we did three Fairs and The International Plowing Match.

What a life.

Happy Dancing

Al & Renia

An interesting propostion from Puttin on the Dance 2




We have received an invite to the Puttin on the Dance 2 that is being held in Ottawa March 20-22, 2015.
The organizers have sent this letter and 2-page flyer to inform us all. Please take a look.

Royal City Squares

If you are following us on Facebook you will have seen that we have a full class. A total of 4 squares which includes 2 squares of brand new Beginners and those returning to learn Mainstream. See the fun we are having in the picture.

Please come and join us Tuesday evenings if you would like more floor time.

Remember, Wednesday evenings we are doing a PLUS TEACH with Jeff Priest. Teach is from 7:30 to 8:15 and the balance of the evening we will be alternating full Plus/Plus Teach.

Welcome back to Dave Williamson and thank you Jeff Priest for filling in and doing a great job with our new beginners.

Don't forget our singing call Theme nights with Jeff Priest on the last Wednesday of every month. November 26th will be Big Band Night.

Submitted by: Yvonne Paterson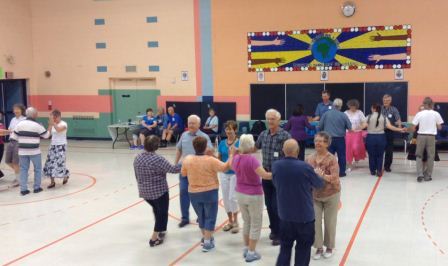 2014 September

Federation and Society Membership

It's that time of year again. Time to renew your membership in Federation.

For $4.00 per person and $6.00 per club the benefits include:

Membership in Federation


Membership in Society


Personal Liability Insurance


Directors and Executive Liability Insurance


Names insurance certificates for dance halls if required


Caller Cuer bursaries from Federation and Society


Recruitment grants for clubs


Recognition awards for clubs, callers, individuals for outstanding service and/or long term service



That's a lot of benefits for your membership. Named insured certificates for a special dance can be over $1,000 per event. Liability insurance should an accident occur that you are held responsible for while dancing can be of great value. Remember your home owner insurance may not cover.
Pleaes make sure you are registered with one club only. Help support the Square and Round dance movement.

Peter & Bev Piazza
Membership Chairs, Ontario Square & Round Dance Federation


2014 August

Update from Al and Renia Calhoun

Hi All, The Barrie Squaretimers and The Midland Square Dancers are going to dance at the following events:
1. The Oro Worlds Fair on Saturday September 13, 2014
2. The International Plowing Match on Thursday September 18, 2014 @ 11:00am rain or shine, let us pray for good weather for them.
AL and RENIA



Royal City Squares Guelph

Welcome back everyone. Thank you Jeff for a successful and fun summer of Basic review taught from different positions. The picture says it all.
Open House: Tuesday, Sept. 9th at Paisley Rd Public School. Starts at 7:30 Bring friends, relatives, neighbours. All welcome including children over 12. Make it a family event.
Beginners and Mainstream Teach Starts Sept. 16th Beginners Dancers can register through Continuing Education call 519-836-7280
Plus Teach Wednesday nights will be a Plus teach from 7:30 to 8:15 and then we will alternate with Full Plus Tips with caller Jeff Priest
Note:**The last Wednesday of each month will be a Singing Call Night with a theme with the Priests, Jeff calling and Andrea cueing rounds. Come join us for "Country Harvest" Wednesday, September 24th
This summer we entertained at Wellington Park Terrance with a demo and participation dance. Residents enjoyed dancing with us especially Velma Walker who had danced with Royal City Squares for many years (pictured here with our president Rick Avery). Thanks to Jeff Priest for his great calling


Submitted by Yvonne Paterson of Royal City Squares



2014 July

Otonabee Square 5th Anniversary Celebration


On Sunday, July 27, we celebrated our successful 5th Anniversary, holding a driveway dance and picnic. Fortunately the weather was perfect during the event but as the last car drove away the heavens opened up!
The dance was led by caller Wayne Whatman, helped by visiting callers Aaron Goodman, Berry Chumbley and Joe Uebelacker. There were 104 people in attendance from various clubs including Oshawa, Lindsay, Napanee, Belleville, Baltimore, Toronto and Etobicoke. Many former dancers joined us and we hope to have lured them back into the fold! A delicious potluck supper was enjoyed and the anniversary cake was cut. A presentation was made to Wayne Whatman. Attached are some photos of the event.


Submitted by Jean Lander


2014 May

Callers Showcase


Many thanks to the organizers of this dance. Aaron Goodman's friends and family were very generous of their time and talents to help make this a fun event. The callers and cuers did a good job of keeping us dancing. Thank you.

We had over 60 people enjoy the event. Basic dancing in one room and Plus dancing in another. Bob Beck and Sharron Hall cued rounds during the square dancing and also held a round dance party in the evening.

This was the last dance of the season. Make sure you check the calendar for all the summer programs happening and support the clubs and callers. See you in September.



Marion
T& D secretary.

2014 April

Lift Lock Squares


On Saturday April 12, 2014 Peterborough's Lift Lock Squares hosted their 52nd annual Spring Spree. This very popular dance was held at Crestwood Secondary School and attracted about 400 people. Dancers journeyed from Ohio, Manitoulin Island, North Bay, Woodstock, Toronto, Ottawa, Cornwall, Kingston and Belleville.

Four great callers including Don Moger from Montreal, Andy Himburg- Larson from Ottawa, Jack Pladdys from Ohio and Lift Lock's own Joe Uebelacker from Lakehurst kept us dancing to lively beats afternoon and evening. Bob and Betty Beck did a wonderful job of cueing for round dancers.

Four Halls ensured that Basic, Mainstream, Plus and A1/A2 dancers were accommodated. Presidents Barry and Valerie Reid welcomed everyone after the executive and callers were piped into the opening ceremony by piper and square dancer Doug Kean. Valerie introduced numerous guest callers attending as well. Anne and Wayne Hare do a superlative job of planning and organizing this dance. Having the dance happen smoothly involves the whole Lift Lock club sharing the work.

The evening finished with a grand finale dance in the plus hall and refreshments served in the cafeteria.

This dance is a wonderful opportunity to greet old dancing friends, meet new dancers and experience the fun of dancing to different callers.

See you at the 53rd Spring Spree April 18, 2015.

Staff in 2015 will be Brian Crawford, Don Moger, Jeff Priest,, Joe Uebelacker and cueing Rounds will be Andrea Priest.

Cathy & Wayne VanVolkenburg Publicity Lift Lock Squares

2014 March

Royal City Squares



Wasn't that a party!
Royal City Squares celebrated the advent of March by hosting a joint square dance with T&D.
Our wonderful callers, Dave Williamson and Jeff Priest, and cuer Andre Priest, seemed to have as much fun as the dancers!
People came from Willowdale, Peterborough, Oshawa, Waterdown, Toronto, St. Jacob's, Niagara, and Etobicoke, 51 in all.
There were often 5 squares on the floor, impressive, considering a snow storm was on its way.
The Royal City dancers love to eat and the repast laid on assured that no one went home hungry.
Our club is very grateful for the support given us by T&D and we were delighted to host such a successful event.

Submitted by Yvonne Paterson
Otonabee Squares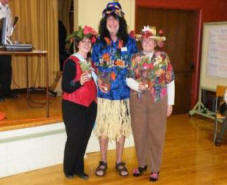 Our club put a bit of colour into our Fall season by holding a "Flower Power" dance. Doris Buttar, Bill Harris and Annette Bourie each won a prize for the most creative use of flowers.
In addition, everyone who wore flowers will get a flower dangle!

We have had a busy Fall season. In addition to our regular club nights we have held three Sunday afternoon mainstream dances.
We are now in the final stages of planning our New Year's Eve dinner/dance. A few tickets are still available. Phone Doris at 905 342 5644 for tickets; $25pp. Singles welcome.

In the new year we are going to have a very busy start;Saturday, Jan 4th will be a mainstream blast all day event. On Tuesday, Jan 7th we start a 6 week class for beginners.
See our website: www.otonabeesquares.org for more information.
---
2014 January
A reminder that the next T&D Joint Dance is being held:
Saturday 1st February with Arrowhead Squares at The Church of Christ the King.

Dancing will be Mainstream, Plus

Callers: Aaron Goodman, Barry Clasper, Grant Logan.

For information on this special event, see the flyer for details and see dance program for the suggested program
---
Presidents Message - Wayne & Sharron Hall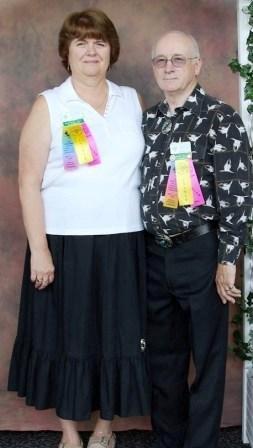 Happy New Year everyone.

Well 2013 sure went out with a bang weather wise hopefully things can only improve as 2014 continues.

By now I'm sure your Dance Clubs are up and running after the Christmas Holidays and everybody is back in the swing of things. Make sure you check the T&D Calendar for Dance Specials and try to support the Clubs that are running them. You know there is a lot of time and effort put in to setting these kind of programs up and with the number of dancers declining the clubs would appreciate your participation.

Please take note of the New Dancer Hoedowns, we need these new Dancers in our activity and I know they would appreciate having the experience of the more experienced Dancers supporting them. Remember we were there once ourselves. Also try and attend the joint Dances between T&D your Clubs, you may not know it but your Callers and Cuers donate their time and efforts to try and help support your clubs.

Sharron and I have been Dancing, Calling and Cueing for over 40 years and there is nothing more exciting than to doing either one of those in a packed Hall and unfortunately they are now few and far between.

Well that's all we have for now, but if you know Dancers who don't have a computer or don't get to see the T&D news pages please pass the information on.
---
Ontario Square and Round Dance Federation looking for volunteers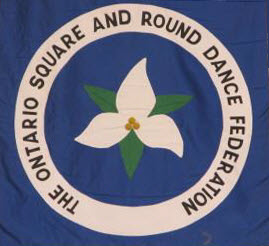 T&D is searching for two couples or four persons to act as representatives of T&D on the Ontario Square & Round Dance Federation.

Wayne and Sharron Hall have been on board for 15 years and feel it is time for new blood. Ken and Rose Marie Robinson have been on a short time but have other commitments they need to pursue.

Representatives are required to attend 3-4 meetings each year in various regions of Ontario (some meetings may be via telephone conference call or Skype), including the annual general meeting.

In addition to supporting the roles of area associations, the aims and objectives of the Ontario Federation are:

To provide a forum at the Provincial level for discussion and interchange of information pertaining to the square and round dance movement and facilitate the flow of information within the organization.
To encourage the growth and advancement of the square and round dance movement within Ontario by:

providing assistance in the organization, development and promotion of Clubs and Associations
-encouraging the development of square and round dance callers, cuers and leaders
-assisting in the coordination of major square and round dance functions in Ontario
-administering the Trillium Award Program to recognize outstanding contributions by Ontario square and round dancers, callers, cuers, and leaders
-promoting the square and round dance movement in Ontario

To represent the Ontario square and dance movement to governments, other provincial Federations, and the Canadian Society of square and round dancers.
To ensure that appropriate liability insurance is available for square and round dancers, callers, cuers, leaders and their organizations in Ontario and to facilitate the implementation thereof.
Please contact Wayne & Sharron Hall at
whall3@cogeco.ca
or
president@td-dance.ca
---
2013 December

Christmas Party at Haliburton Twirlers - Submitted by Al & Renia Calhoun

THIS IS THE FIRST CHRISTMAS PARTY AS THE HALIBURTON TWIRLERS ALL GO SOUTH AND START UP AGAIN IN APRIL 2014.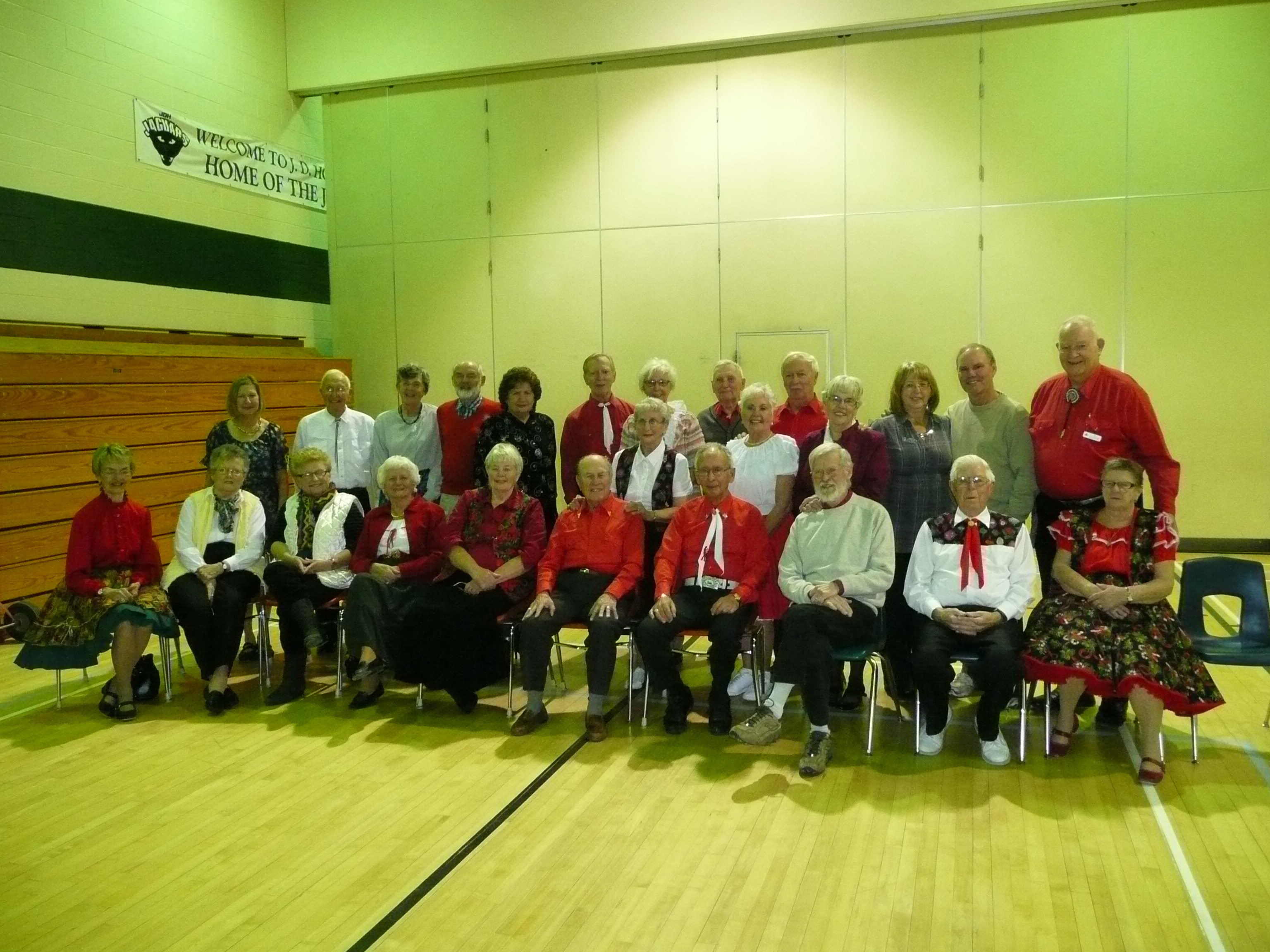 ---
2013 November

Lots of Fun with Royal City Squares - Submitted by Yvonne Paterson

Monday 10 November 2013
What a great gang we have in our Basic/Mainstream Tuesday class! The dancers are progressing rapidly under Dave Williamson's excellent tutelage with the Basic class going from 7:30 until almost 9:00, and the Mainstream dancers staying on until 10:00. Royal City Squares has 34 new dancers and many carrying on from last year, learning Mainstream and starting to learn Plus. We try to keep the laughter at a level where the caller isn't drowned out, but we do have a good time. We invite anyone at the Basic or Mainstream level who wants another night of dancing to join us. We guarantee you a fun time.

Our Wednesday night caller, Jeff Priest, holds a Plus teach from 7:30 to 7:00, and then it's full Plus for the rest of the evening. The last Wednesday of every month is our singing call night, always with a theme, and that night, the Plus teach is preempted by round dancing cued by Andrea Priest. Both Tuesday and Wednesday dances had Hallowe'en parties the end of October, with lots of goodies brought by the dancers who wore some very inventive costumes. The Wednesday night dance had the triple wammy of Hallowe'en, singing call night, and Elora Grand Squares dancers there to retrieve their banner. The accompanying photos show some of the great costumes people came up with.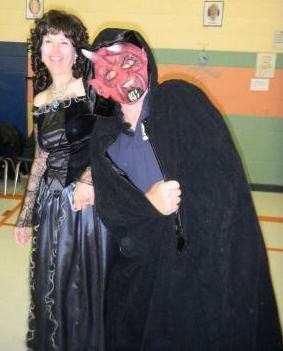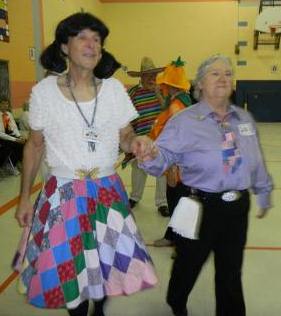 We're already looking forward to our next singing call night, November 27, with the theme, "A Little Bit of Country". Dig out that old stetson and come join us for a fun evening dancing to whatever Jeff digs up for this theme. The last Wednesday dance before Christmas, December 11, is Formals Night, so start searching out that old tux and diamond tiara!

Royal City Squares is a very friendly club, with singles being as welcome as couples. Come dance with us antyime you wish. You'll find us in the gym at the back of Paisley Road School, 406 Paisley Road, Guelph.

Contact: Yvonne Paterson, 519 836-7289 or yvonnepaterson88@yahoo.com
---
2013 October

Blue Mountain Promendaders - Submitted by Darrel Muirhead

Monday 21 October 2013
On October 5th, 2013 The Blue Mountain Promenaders Square and Round Dance Club, in a joint dance with T&D, celebrated their 55th Anniversary year as a club.

It was held a the Nottawasaga Community Centre in Duntroon, Ontario, where the club meets regulary on Wednesday evenings from 8:00 to 10:00 pm.

The Square Dance callers were the Clubs' caller Dean Fisher and Guest caller Jim Lee. The Round Dance Cuers were Bob and Betty Beck who also attended our regular dance on Wednesday October 9th.

Two of the clubs' ealier callers were in attendance, Lorne and Betty Hay(the first caller for the club) as well as Al and Renia Calhoun who were the callers before Dean Fisher. We were certainly happy to welcome them back for a visit.

We also had a visit from our local MPP Jim Wilson and Collingwood councillor Kevin Lloyd who presented the club with certificate celebrating our 55th Anniversary.

A special presentation was made to Dean and Ethel Fisher in recognition of 25 years as the clubs' callers and for 40 years being part of the development and maintenance of the club.

Approximately 36 couples attended the event and enjoyed an afternoon and evening of dancing and camaraderie and socializing.

See some pictures in the Photo Gallery

Submitted by Darrel Muirhead
President, Blue Mountain Promenaders
---
Celebrate Fall Dance - Submitted by Cathy VanVolkenburg

Friday 11 October 2013
Celebrate Fall was hosted by Lift Lock Squares and Otonabee Squares in Peterborough, Saturday Oct 5, 2013. Everyone attending had a great time.
The joint dance was held at Thomas A Stewart Secondary School and included Basic, Mainstream and Plus levels.

Dancers journeyed from North Bay, Kingston, Napanee, Belleville, Trenton, Oshawa, Newmarket and Baltimore.
The North Bay dancers were billeted by some local members and North Bay intends to return the favour next month when they host a dance.

The use of two gyms enabled us to experience various levels of dance in both the afternoon and evening.
We all enjoyed the great calling of Joe Uebelacker and Wayne Whatman.

Coffee tea and delicious cookies were available throughout the afternoon and evening in the spacious school kitchen.
Afternoon winners of Share the Wealth were John Manning from Lift Lock and Nancy Hastie from Otonabee Squares.

Evening winners were Joyce Cook from Otonabee /Lift Lock and Emma Lander from Triangle Squares

Meeting dancers from many different clubs made this a special fall day indeed.

Submitted by Cathy VanVolkenburg
Publicity Lift Lock Squares
---
2013 September

Dancing at Applefest - a tidbit from Ken Robinson

Thursday 25 September 2013
For the second year in a row, dancers from Woodstock, Tilsonburg, Brantford, Guelph, Waterdown and Willowdale entertained an enthusiastic crowd at St. George Applefest.
For this joint T&D and SWOSDA initiative, Dave Williamson called squares and Bob Beck cued rounds for dancers, who were careful to watch their steps dancing on a trailer from an eighteen wheeler.
" Waltz away" takes on a whole new meaning when you are close to the edge, seven feet above a paved parking lot! Dancers are also a bit nervous backing up in a Grand Square.
Never the less it went off without a hitch. (Actually that's not quite true - several times Bob called a "full hitch".)

Although Saturday was very wet, the Brantford paper estimated that 27 000 people attended this year's festival.

Next year why don't you plan to join us. These small country fairs are too good to miss.
---
Update from the President couple of Waterdown Village Squares

So, another summer has been and gone and here we are getting back in to the "swing" of things. We hope everyone's summer was a fantastic one.
The Waterdown Village Squares have enjoyed a fine first week of the season. On our first Basic/Mainstream Thursday night, we had 17 new dancers come out and join the fun.
Monday night's Plus evening saw a number of returning dancers and some graduates fresh from last year's Mainstream programme.
On Tuesday night this year, in addition to our A1 programme at 8 o'clock, we have added Round Dance lessons beginning at 7 o'clock.
The lessons are being taught by tremendous duo of Bob and Betty Beck. On our first night, despite the very host and humid evening , we had 16 couples come out.

A reminder that we are still running introductory lessons on Thursday Nights for the balance of September, so come on out and bring a friend, you could be eligible for awards and prizes.

We are also looking forward to our first club sponsored dance of the season. "Warm Up to Winter" and A1-A2 dance on Saturday November 23rd and we hope to see you there!
Jamie and Sue
Presidents
Waterdown Village Squares