Welcome...
...new dancers, returning dancers and never-stopped dancers
Square dancing is a great way to have fun, keep active and get connected to people in your community. Clubs across the GTA dance regularly, usually from Sept to May. Watch here for announcements of Open Houses, which usually take place in Sept & Jan. Experienced dancers, watch the calendar and Facebook for invitations to events and dances across region.
Association News
May 2016

Sad news: we have been told of the passing of Bill Harris, an enthusiastic square dancer, Vice President of Lift Lock Squares, and energetic promoter of square dancing to the next generation of dancers.
His Death Notice and visitation arrangements are here.
A Commemoration dance for Bill Harris will be held in Peterborough, Monday June 6, details in our calendar.
Also sad to be informed of the passing of long-time caller, and former T&D President Mac Marcellus
Notice
A dance will be held to benefit the people of Fort McMurray, Sunday June 12 in Bewdley ON, details also in our
calendar
.
News from Maple Leafs Regroup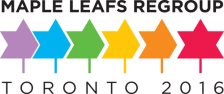 The Triangle Squares/IAGSDC Convention will be held July 1-4 this year at the Fairmount Royal York Hotel. Featuring internationally renowned callers and high-energy fun, members of T&D clubs are invited to attend. First time attendees are entitled to the subsidized price of $180 US, which includes four days of dancing and two sit-down meals. Attendees are not required to stay at the hotel.

If you are unable to attend the full Convention, be sure to come to these events:
graduation dance for the newest crop of callers from the GCA Caller School, Friday July 1, 9:30-11:30 am, free
free Trail-in Dance, Friday July 1, 7-10pm, featuring Anne Uebelacker and Joe Uebelacker, founding callers of Triangle Squares back in 1987.
Contra Dance, Saturday July 2 in the Grand Ballroom, 8-10:30pm, featuring the live music of Anne Lederman. Open to the public for the ridiculously low price of $10.
All at the fabulous Fairmont Royal York Hotel, which is directly across the street from Union Station.